It's hard to attend social gath­er­ings these days with­out con­ver­sa­tions dove­tail­ing into Mid­dle East peace­keep­ing. Dis­cus­sions can turn into heated exchanges depend­ing on whether you're in favor of a Pales­tin­ian state or not. Even Jews dif­fer on this issue. But one thing seems uni­ver­sal – many form a view­point on this tumul­tuous region of the world before know­ing its his­tory. Any­one who cares to pre­serve the only pro-Western, demo­c­ra­tic, non-Islamic coun­try in the Mid­dle East might want to reconsider.
Unlike Israel, who became a nation as early as 1300 BCE some two thou­sand years before Islam, there was never a Pales­tin­ian nation. Once Jews re-inhabited their home­land of Judea and Samaria (now Israel) in 1948, the notion of a Pales­tin­ian nation gained pop­u­lar­ity. Unfor­tu­nately, there is no evi­dence that sup­ports this. There is not a Pales­tin­ian lan­guage, a dis­tinct Pales­tin­ian cul­ture or even land once ruled by Palestinians.
Instead, this is what occurred. In 1922, Britain allo­cated nearly 80 per­cent of the area called Pales­tine to Tran­sjor­dan. Then in 1947, the UN par­ti­tioned the remain­ing land into two states: one Arab and one Jew­ish. And presto: the Jew­ish land became Israel and the Arab land became Jor­dan (for­merly TransJordan).
The divi­sion between Arabs and Jews in the Mid­dle East was not too dif­fer­ent than when the British parceled out land a few years later to Hindi state, India, in 1950, and Islamic state, Pak­istan in 1956.
So, why the con­flict? Israel's birth as a mod­ern nation in 1948 did not occur peace­fully. Her Arab neighbors—Egypt, Syria, Lebanon, Jor­dan and Iraq—attacked her. Israel remained out­num­bered with 650,000 Jews against 40 mil­lion Arabs. The result of this attack cre­ated an Arab refugee cri­sis, which only inten­si­fied as neigh­bor­ing Arab coun­tries refused asy­lum and sealed their bor­ders. These dis­placed Arabs iden­ti­fied with the term "Pales­tini­ans" and began refer­ring to them­selves as belong­ing to the Pales­tin­ian peo­ple in 1967, nearly two decades after Israel became a mod­ern state. As the unrest wors­ened, there has become a global con­cern to cre­ate a Pales­tin­ian state.
But for Israel it's less about the legit­i­macy of the state and more about the loca­tion. There just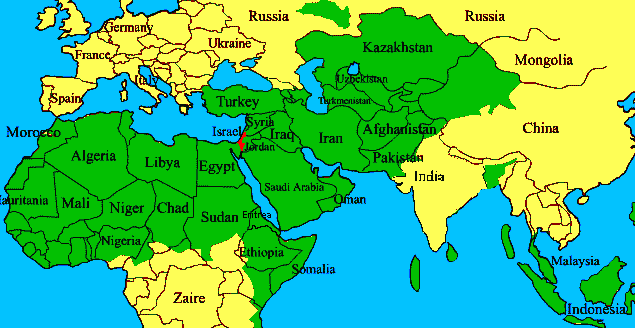 isn't enough land. Not only did the UN par­cel out more land to Tran­sJor­dan for an Arab state but Israel is one of the tini­est nations on Earth. Unlike neigh­bor­ing Arab coun­tries that occupy large land­masses (Saudia Ara­bia is 1/4th the size of the United States), Israel is a small strip of land about the size of New Jersey.
Nearly daily, Israel defends her­self against Hamas, who reg­u­larly launches mor­tar fire and mis­siles into Israel as it occu­pies the Gaza Strip bor­der­ing Israel's south­east­ern cor­ner. Then, there's Fatah, who is occu­py­ing the West Bank in the cen­ter of Israel. These aggres­sive occu­pa­tions have put Israel in a defense pos­ture 24x7 mak­ing any agree­ment for a Pales­tin­ian state in Israel a recipe for disaster.
Israel has made great strides for peace in the past. To encour­age peace with Egypt, Israel returned the Sinai Penin­sula to Egypt. But these days there are far too Arab neigh­bors eager to stake claim to a piece of Israel. Both Jor­dan and the Pales­tin­ian Author­ity (PA) have made it clear that they want the Gaza Strip. And the PA is even vying for Jerusalem. Syria con­tin­ues to claim the Golan Heights (the one loca­tion that gives Israel a strate­gic upper­hand mil­i­tar­ily as all of its Arab neigh­bors are vis­i­ble from that site). At some point, there needs to be a real­ity check. Israel will no longer be a coun­try if every Arab nation is encour­aged to take a piece of her.
The fact remains that "Pales­tine" listed on any map is not just part of Israel but MOST of the land is in present day Jor­dan.
Other options could include using excess land from any of the 22 large Arab neigh­bors. These states are 640 times Israel's size, 60 times her pop­u­la­tion and they occupy oil reserves where Israel has none. Tak­ing away more land for yet another Arab nation only dimin­ishes Israel's right to exist.
It's also worth not­ing that the aver­age GDP per capita in Arab coun­tries is $4,765 (2009 Esti­mate) ver­sus $28,271 (2009 Esti­mate) for Israel. Even with the world's largest oil reserves at their dis­posal, a two state solu­tion trans­lates into Israel's suc­cess­ful cul­ture foot­ing the bill.
Many ter­ror­ists groups like Hamas, Hezbol­lah and oth­ers are a hard sell when they're hell bent on Israel's destruc­tion. Don't count on a big wel­com­ing com­mit­tee on either side. Espe­cially, when these same ter­ror­ists groups con­stantly send in sui­cide bombers into Israel's crowded streets and launch mor­tar fire and mis­siles at her citizens.
Land taken from Israel is a recipe for fail­ure. Land taken from Jor­dan (or any other Arab nation) is a recipe for success.
If the Arabs (Mus­lims) put down their weapons today there would be no more vio­lence. If the Israelis put down their weapons today there would be no more Israel. — Anony­mous